An Acre of Art
2000
In collaboration with sculptor, Mark Knierim.
The work used three interrelated components on the Internet, in the galleries of the Minneapolis Art Institute, and on an acre of agricultural land, to examine ideas about place and address issues of rural land and land ethics. The opening of this piece also coincided with the public presentation of the manifesto of the Society for Neo-Regionalist Art.
1 | 2 | 3 | 4 | 5 | 6 | view video (video opens in a new window)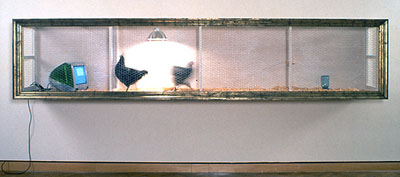 This view shows "Landscape", a gold gilded chicken coop, which was home to Scout and Mabel, two bard rock hens who lived in the Art Institute Gallery. Scout and Mabel were also tele-present around the world 24 hours a day via a web video chicken-cam transmitting live from their coop.